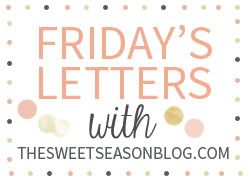 I am linking up with the gorgeous
Ashley
at The Sweet Season for Friday Letters. Go say hello to her and congratulate her on her new baby bump!
Dear Valentine's Day
, You kinda rocked this year. 5 years ago on Valentine's day Chris proposed. I still need to tell that story. Maybe next week. This year he wrote me a letter about how that one moment changed our lives forever.
Then we get to this morning...
Dear Hubs,
Yep, it's Friday. Wanna know how I know? Every other weekend you have the weekend off. Every other Friday you pick a fight. Why? Do you realize we get 4 days a month together? Why do you try to make them miserable?
Yeah we aren't the perfect couple.
Dear Barn, I will be seeing lots of you Saturday (see above). I little pony time will be good for me. Plus, this Saturday is the awards banquet. I am excited to get my drink on see all of my horse friends from other barns.
Dad and I at banquet a few years ago.


Dear you,
If you are new here, welcome! I hope you have a great weekend and I will see you Monday!